What is a Kia Flat Tire Kit?

---
A Kia spare tire was once included on every vehicle in the new Kia inventory, but over time, brands started to prioritize things like fuel economy and cargo space. As a result, the bulky Kia spare tire has been replaced by the compact Kia Tire Mobility Kit (TMK) – a tire repair kit that contains all the tools you need in case of any Mascoutah emergencies.
What is the Kia Tire Mobility Kit?
Rather than carrying a full Kia spare tire in your car, the Kia Tire Mobility Kit contains all the pieces that you need to patch or repair your tire on the go. This provides you with the safety and stability you need until you get to the service department for your replacement. Not only does this help to free up storage space and cut down on weight in your KIa, but it also offers an effective way to fix your Kia flat tire on the Smithton roads.
What is in the Kia Tire Mobility Kit?
Your tire repair kit will include the following:
Tire sealant
A filling hose
A compressor
A tire gauge
Necessary cables and hoses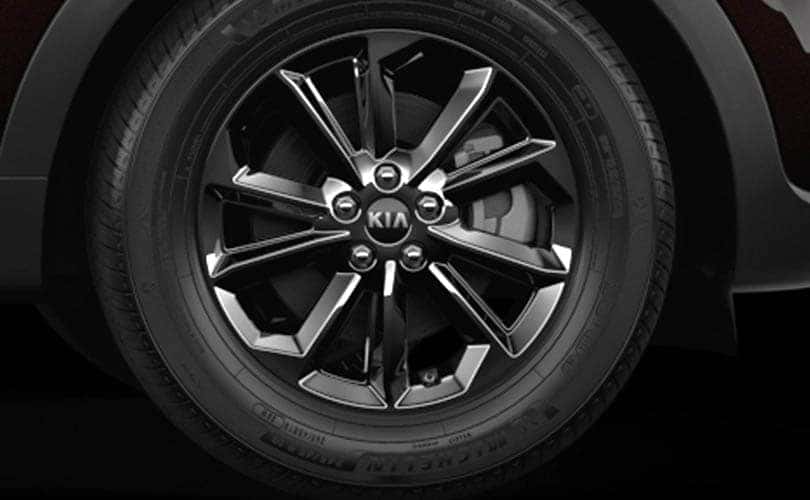 How Do I Use the Kia Tire Mobility Kit?
Your tire repair kit has all the pieces that you need to get you back on the Trenton roads, but keep in mind that this is a temporary repair. We recommend scheduling your service as soon as possible for a long-term solution. But if you find yourself with a Kia flat tire, here are the steps to take:
Look under the floorboards of your trunk for the tire repair kit.
Attach the inflator hose to the tire valve stem securely.
Turn on the unit to inject sealant into the tire.
Inflate the tire with the compressor.
Once you are able to drive, head to the nearest Kia dealership for a new tire.
If you'd like to get a Kia Spare Tire Kit instead, our parts department would be happy to help you find just what you need for your Kia model.
Can I Get a Spare Tire For My Kia Vehicle?
Yes, you can! Many Smithton drivers want added peace of mind with a traditional Kia spare tire instead of a repair kit. Learn more about the Kia spare tire kit, which includes a tire jack when you contact our service center. We'll provide you with the cost details, place the order for you, and be in touch once the kit arrives at our Shiloh Kia dealer.
How Long Can You Drive on a Kia Spare Tire?
If you're driving a full-size spare tire, you have to replace it within 70 miles. Stay safe and if you need spare tires near Mascoutah, give our parts department a call! Here are basic details you should know about driving on a Kia spare tire:
Spares cannot be driven over 50 miles per hour
Spare tires shouldn't be driven for more than 70 miles>
You'll have less traction than with a full-size spare
Find Out More with Auffenberg Kia
Whether you're interested in a Kia Spare Tire Kit or a wheel check on your vehicle, the service department at Auffenberg Kia is here for all of your automotive needs. Contact us with any questions.
More From Auffenberg Kia
Shiloh drivers are offered a wealth of choices by the eight distinct 2023 Kia Sorento trim levels. But which trim is best for you, and how much does the Kia Sorento cost? We're happy to report that the Kia Sorento price starts at only $30,090. To help you pick the trim that's right for…

Smithton drivers searching for a capable and well-equipped SUV need not look any further than the Kia Seltos. Equipped with all-wheel drive and packed with standard safety features, the Kia Seltos allows you to confidently navigate Trenton roads, even in inclement weather. In this guide from the experts at Auffenberg Kia, we highlight key features…

We know you're seeing more and more electric vehicles—EVs—on the streets around Mascoutah and Smithton. Many of them are from luxury brands, so you might be thinking that an electric SUV is out of reach. Think again! The 2024 Kia EV9 is set to arrive at Auffenberg Kia to level the EV playing field with…