---
Healthy engine oil is one of the most important components in a well-running vehicle. Whether you drive a new or used model, learning how to check car oil is an efficient way to ensure your vehicle is up to snuff. Not only should you learn to spot oil defects, but you will also want to learn how to check the oil level in a car to make sure there's a sufficient volume to prevent damage. Your engine oil works to keep friction and overheating at bay while the moving parts in your engine work hard to deliver dependable performance. Read on below to learn more about how to check car oil with the expert service team at Auffenberg Kia!
Learn How to Check the Oil Level in Your Car
Almost all new vehicles offer an electronic oil monitoring system that mitigates the need for manual oil checks, so start by consulting your owner's manual. If you do want to learn how to check the oil level in your car by hand, follow these steps to work like a pro in your own Mascoutah garage:
Once parked on level ground, shut off your engine and allow ample time for the vehicle to cool.
Locate the dipstick under the hood.
Remove the dipstick and wipe off any oil with a rag.
Place the dipstick back into the tube, pull it out, and examine both sides to see where the oil level is.
If the oil streak falls within the cross-hatched area, your levels are good. If not, slowly add the proper oil grade based on the recommendation from your owner's manual.
You can always rely on our service team, but if you prefer to try your hand at DIY car care, we have you covered. We offer an array of service tips so you can work on your Smithton ride with the benefit of professional guidance.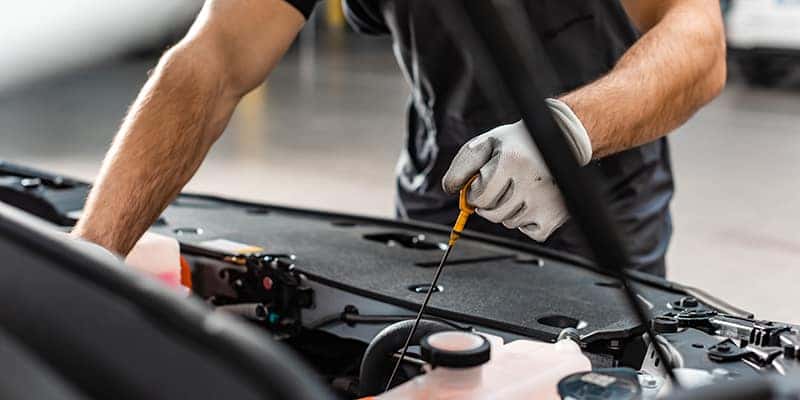 Why Check Your Car's Oil Level?
As the often unsung hero of engine performance, motor oil quietly goes about essential work. Maintaining the proper oil level is necessary for optimal performance and for safe navigation. In most cases, it is recommended that drivers get an oil change roughly twice a year. However, this recommendation will vary based on make, model, and driving habits. In the interim, we suggest checking your oil level once a month for peace of mind. This will allow you to travel with confidence.
When you do check the status of your oil, keep an eye on the condition of your oil to make sure the color looks fresh and it is free from any floating metal particles. Additionally, if your car's hood is hot to the touch or smoke seeps out, schedule service without delay. You may have a serious oil leak that could lead to overheating and damage.
Let the Auffenberg Kia Service Team Keep Your Car in Prime Condition
Now that you know how to check car oil, you can stay on top of your maintenance needs. If you do spot any irregularities in your engine oil, you can turn to us for expeditious service. If you prefer, you can contact us for individualized guidance on how to check the oil level in your car. We offer expert car care and an array of rotating service specials to help you save. Trust the pros at Auffenberg Kia near Trenton for all things automotive!