How Often Do You Change Synthetic Oil?

---
As a pragmatic driver in Mascoutah, you likely look to stay on top of your Kia maintenance schedule. Despite your diligence, you may still be wondering "How often do you change synthetic oil?" This is a question that our service team hears often, as there is a lot of varying information available online. Typically, most synthetic motor oils can last between 7,500 miles and 15,000 miles. These numbers will range based on the type of oil used, driving conditions, driver habits, and more. You can consult your service manual to discover how often to change synthetic oil, or schedule a service appointment with our team if you prefer our professional opinion.
Synthetic vs. Conventional Oil: What's the Difference?
The first thing many Smithton drivers note when comparing synthetic to conventional oil is the bump in price. While synthetic oil is more expensive than conventional, it offers immense value, as it is more refined and can last much longer than conventional. Higher performance is an added bonus of opting for synthetic oil and synthetic is almost always recommended for high performers like the Kia Stinger.
Before you uncover the answer of, "How often do you change synthetic oil?" You need to understand which oil type is recommended for your car. The best way to determine whether you need a synthetic or conventional oil change is to consult your owner's manual. This is your source of truth for all things maintenance, you can also review our service tips for a better idea of what's going on under the hood of your shiny new Kia!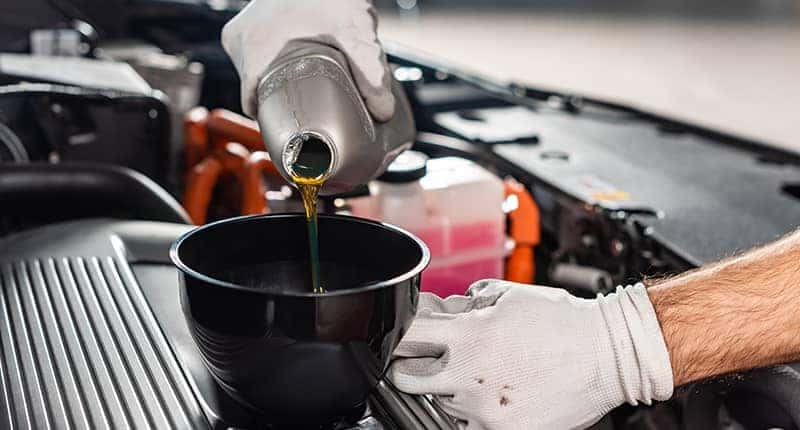 Why Choose Synthetic Oil?
While some drivers in Trenton avoid synthetic oil due to the cost, opting for the well-refined oil can lead to a number of benefits that can't be secured with a conventional oil change. Here are a few benefits of selecting synthetic oil:
Longer Oil Change Interval – When asking how often to change synthetic oil, drivers will be pleased to find out that certain models can cruise for up to 15,000 miles before a synthetic oil change is needed. Check your owner's manual for model-specific guidance.
Better at Higher Temperatures – Synthetic oil stands up better under pressure. Like a good driver, synthetic oil can stand the heat and can keep your engine running smoothly for the road ahead.
Better for Performance – Drivers who are looking for off-road fun or want to spend the weekend tearing up the racetrack will do well to opt for synthetic oil. The increased performance capabilities of synthetic oil are perfect for any driver who wants to take their ride to the limit!
Can You Mix Synthetic and Conventional Oil?
While not recommended, synthetic and conventional oil can be mixed in a pinch. If you have purchased synthetic oil, you will dilute the benefits you paid for as you mix the conventional in. If your car requires synthetic oil, the best practice is to stick with that.
How Much is a Full Synthetic Oil Change?
The price of a synthetic oil change at Auffenberg Kia can change depending on a number of factors including vehicle type, oil grade, and more. Contact our service department for a quote based on your vehicle's make, model, year, and trim. Additionally, we offer rotating service specials to help our Shiloh customers save!
Schedule an Oil Change at Auffenberg Kia!
Still wondering how often to change synthetic oil or how to check your oil? Not to worry! Contact us today with any maintenance questions. Our team is happy to offer guidance and make recommendations to help keep your Mascoutah ride on the road longer. No matter what car care concerns you have, you can get solid advice and fair prices at Auffenberg Kia.
More From Auffenberg Kia
Shiloh drivers are offered a wealth of choices by the eight distinct 2023 Kia Sorento trim levels. But which trim is best for you, and how much does the Kia Sorento cost? We're happy to report that the Kia Sorento price starts at only $30,090. To help you pick the trim that's right for…

Smithton drivers searching for a capable and well-equipped SUV need not look any further than the Kia Seltos. Equipped with all-wheel drive and packed with standard safety features, the Kia Seltos allows you to confidently navigate Trenton roads, even in inclement weather. In this guide from the experts at Auffenberg Kia, we highlight key features…

We know you're seeing more and more electric vehicles—EVs—on the streets around Mascoutah and Smithton. Many of them are from luxury brands, so you might be thinking that an electric SUV is out of reach. Think again! The 2024 Kia EV9 is set to arrive at Auffenberg Kia to level the EV playing field with…