What Does Telluride Mean?

As the largest of the new vehicles Kia has made for the US, the affordable and spacious Telluride has created waves from Mascoutah to the farthest road trips of drivers everywhere. Yet, what does Telluride mean? First, it's perhaps more relevant to ask "Where is Telluride?" Most people asking that question want to know how far Telluride is from Denver — because Telluride is the name of the outdoor oasis found at the seat of the San Miguel County in Southwest Colorado. Find out more from the Auffenberg Kia experts below about the origins of the name of this incredible SUV.
Where is Telluride?
We'd hesitate to say it's close to Denver, but it's closer to Denver than it is to Shiloh, IL! Telluride is located about six hours southwest of Denver on US-50 and US-238.
Want to take your new Kia Telluride to Telluride? It has you covered with an impressive 3.8L V6 (291 hp) and 18-inch alloy wheels to aid in excellent handling, whether you're staying on US-238 or you're heading off-road.
And thanks to the standard features below, the Telluride has room for your whole family — and the tech to keep you connected along the way:
Smart Key with Push Button Start
Three-Row Seating
UVO link Telematics (w/smartphone remote start)
8.0-inch Touchscreen Display with Rear Camera
How to Get to Telluride
How to get to Telluride depends on what gorgeous landscape you'd prefer to see on the way:
You could take the more southern route alongside the Pike National Forest.
You could take US-40 through Arapaho National Forest.
The drive from Salt Lake City is a beautiful option if you'd like to make a bit of a detour first.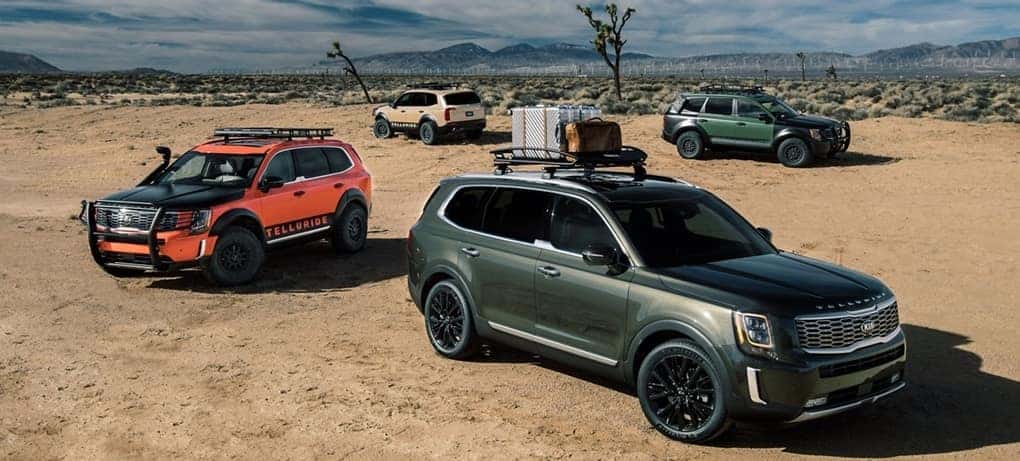 The Origin of Telluride
The storied history of Telluride begins with the town's founding, which occurred in part because of its natural beauty near Bridal Veil Falls and location in a breathtaking box canyon. More importantly, the precious minerals and elements found in the mines nearby gave the town its new moniker, Telluride, named for the telluride minerals found throughout the area. Trenton drivers looking for a true rendezvous with the glorious and complex history of the gold rush era will find it in Telluride.
Discover Your Telluride at Auffenberg Kia
The answer to "What does Telluride mean?" is the story of gumption, exploration, and more than a little bit of luck. The 2020 Telluride from Kia distills that into an SUV with the moxie of a new miner and the comfort of one who's struck gold. Write your own answer to "Where is Telluride?" as you and your family explore the US for yourself with the help of the Auffenberg Kia specialists. Want to learn more about this model? Explore the latest Kia Telluride reviews!
Whether you're looking for service specials to get your vehicle in top shape for that next road trip, or you just want a peace of mind on your Shiloh commute, our certified service technicians are standing by.
More From Auffenberg Kia
Shiloh drivers are offered a wealth of choices by the eight distinct 2023 Kia Sorento trim levels. But which trim is best for you, and how much does the Kia Sorento cost? We're happy to report that the Kia Sorento price starts at only $30,090. To help you pick the trim that's right for…

Smithton drivers searching for a capable and well-equipped SUV need not look any further than the Kia Seltos. Equipped with all-wheel drive and packed with standard safety features, the Kia Seltos allows you to confidently navigate Trenton roads, even in inclement weather. In this guide from the experts at Auffenberg Kia, we highlight key features…

We know you're seeing more and more electric vehicles—EVs—on the streets around Mascoutah and Smithton. Many of them are from luxury brands, so you might be thinking that an electric SUV is out of reach. Think again! The 2024 Kia EV9 is set to arrive at Auffenberg Kia to level the EV playing field with…