What is the Kia Soul MPG?
---
When you drive a 2021 Kia Soul you know you're going to get a lot of attention paired with a low price. This affordable and stylish compact crossover also sports some of the best fuel economy in its class, so you keep saving money when you're driving on Mascoutah streets. Take a closer look at how the Kia Soul MPG up to 29 mpg city/35 mpg highway.
2021 Kia Soul Gas Mileage Based on Engine
The Kia Soul gas mileage comes from a pair of efficient engine options with just the right amount of power to make driving in Smithton a breeze. Here's how the Kia Soul MPG breaks down depending on trim level and engine option:
2.0L DOHC 16-valve I-4
This is the standard engine in most Kia Soul trim levels. It comes with a six-speed manual transmission standard on the LX trim, so it's a lot of fun to drive! Other configurations get an IVT. Here's the Kia Soul fuel economy with the 2.0L engine, by trim level:
EPA-estimated 29 mpg city/35 mpg highway with the Kia Soul LX
EPA-estimated 28 mpg city/33 mpg highway with the Kia Soul S, GT-Line, and X-Line
147 hp and up to 132 lb-ft of torque
1.6L Turbocharged DOHC 16-valve I-4
Of course, this engine comes standard on the Kia Soul Turbo and sports a seven-speed dual-clutch transmission. Even with its increased power the turbo-charged Kia Soul fuel economy stays low:
EPA-estimated of 27 mpg/city and 32 mpg/highway
201 hp and 195 lb-ft of torque.
All engine options have a fuel tank capacity of 14.2 gallons, dual continuously variable valve timing, gasoline direct injection, four-wheel disc with anti-lock braking system, front-wheel drive, 16- to 18-inch wheels, and electric power steering.
Find Great Fuel Economy at Auffenberg Kia!
You'll save a lot of money with the great 2021 Kia Soul fuel economy, but you can start saving as soon as you start shopping! Start by shopping for our new vehicle specials to get an even better price on your Kia Soul. Then, apply for financing with our finance department. They're here to do the legwork required to get the best auto loan rate in the Trenton area! Contact us when you're ready to get started on enjoying the great Kia Soul gas mileage!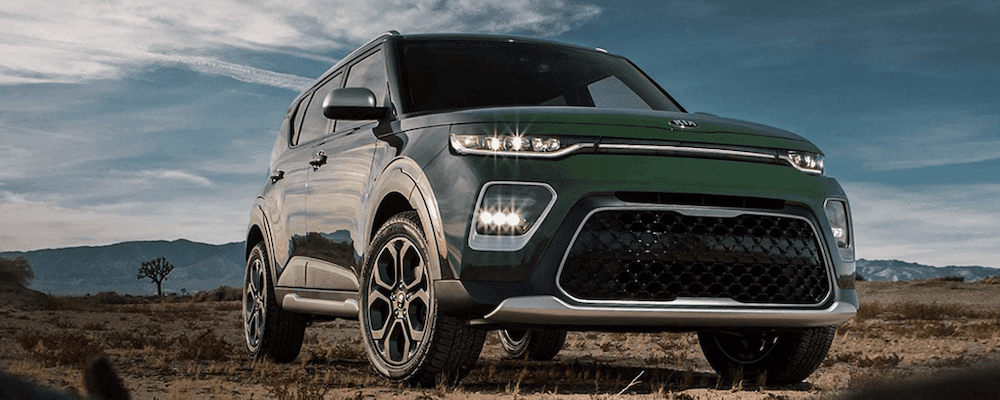 ---
The 2020 Kia Soul is an instantly recognizable, iconic vehicle, but does it have the fuel economy you need for your Smithton and Trenton adventures? Our answer is a resounding "Yes!" because the Kia Soul mpg tops out at 29 mpg city, 35 mpg highway.
Take an in-depth look at the Kia Soul gas mileage with Auffenberg Kia, and find out which powertrain has exactly what you need.
2020 Kia Soul Gas Mileage
Mascoutah drivers can choose between two different engines, a 2.0L Inline-4, which comes standard, and a 1.6Lturbocharged Inline-4, which is included on the high-end GT-Line Turbo. With either set-up, the Kia Soul mpg is sure to impress:
2.0LInline-4 with Manual Transmission

25 mpg city
31 mpg highway
27 mpg combined

2.0L Inline-4 with Intelligent Variable Transmission

27 mpg city
33 mpg highway
30 mpg combined

1.6L Turbocharged Inline-4 with Dual Clutch Transmission

27 mpg city
32 mpg highway
29 mpg combined
Interested in getting the highest Kia Soul fuel economy that you can? Upgrade the Kia Soul EX with 17-inch wheels to enjoy up to 29 mpg city, 35 mpg highway, and 31 mpg in combined settings.
Although several different transmissions are available, each Kia Soul is equipped with front-wheel drive. Each trim also uses a fuel tank with a 14.3 gallon capacity.
2020 Kia Soul Engine Specs
Although the Kia Soul fuel economy is high, you won't have to compromise on fun! With either engine, your Soul will deliver a healthy amount of horsepower and torque:
2.0L DOHC Inline 4-Cylinder Engine

147 hp
132 lb-ft of torque
Multi-Port Gasoline Injection

1.6L Turbocharged Inline 4-Cylinder Engine

201 hp
195 lb-ft of torque
Gasoline Direct Injection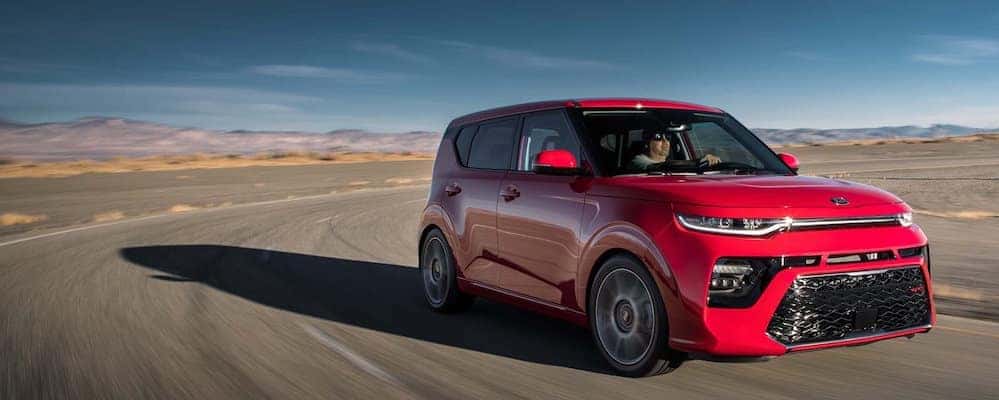 Experience the Kia Soul Performance for Yourself!
Are you ready to get behind the wheel? Once you've experienced the Kia Soul mpg for yourself, you'll have a hard time settling for rivals like the Honda Fit! Check out our new Kia Soul inventory, or save on your monthly payment by claiming a Kia Soul lease deal today! You can explore the Kia Soul color options with our team to style this efficient beast to your liking! Interested in other exciting Kia SUV options? Learn more with our Kia Seltos pricing guide today!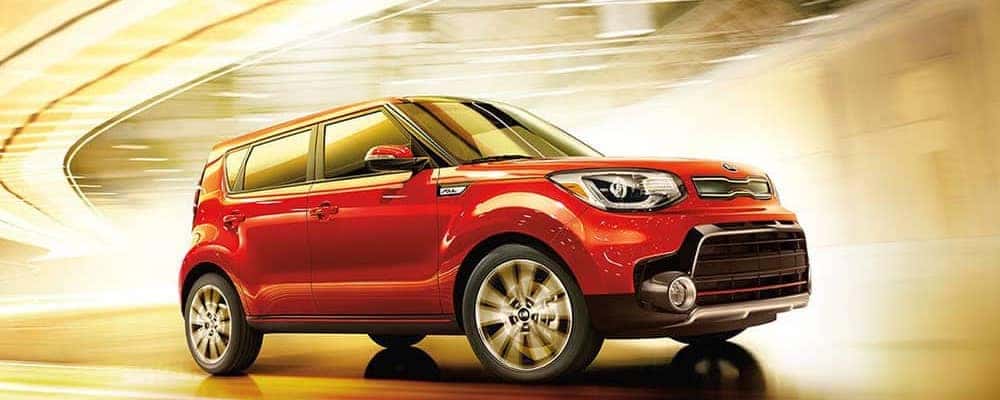 ---
As one of the
coolest cars on the road
, the Soul already has quite a bit going for it — the impressive 2019 Kia Soul mpg numbers just seal the deal for us. A popular choice for the young professional or the growing family, we've lost count of the number of Kia Souls we've seen around Mascoutah and Smithton — but more than a million have left the factory so far, and it's not slowing down.
You know
the Soul looks good
, it feels good to drive, and now you can rest assured that those joyrides won't hurt your bank account.
2019 Soul MPG Numbers
The 2019 Kia Soul mpg ratings are going to depend on which model you drive, which transmission you have, and which engine is under the hood.
2019 Kia Soul Base mpg ratings start at 30 highway and 24 city for 27 combined mpg thanks to a 6-speed manual transmission.
Those numbers see a slight boost if you upgrade to the 6-speed automatic, rising to 31 highway, 26 city, and 28 combined mpg.
The Kia Soul ! mpg ratings will look familiar — 31 highway, 26 city, and 28 combined mpg — but the turbocharger gives this Soul a spirited 201 hp at no cost to fuel economy.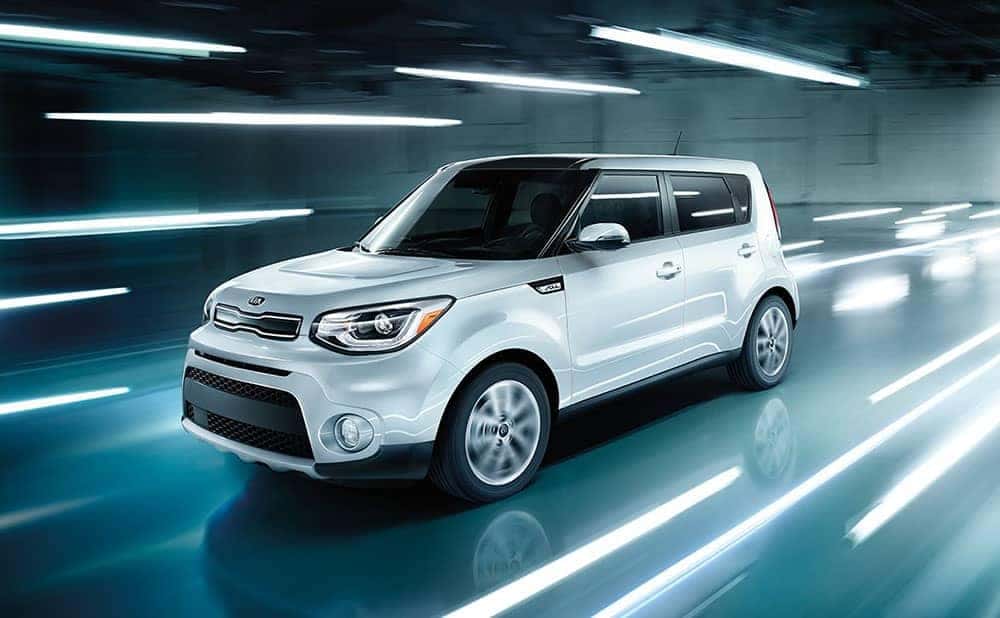 You might not come to the Soul for its energetic driving first, but it's one of the reasons we've found so many Trenton drivers sticking with the model for years. The 2019 Soul can be had with that 201-hp turbocharged engine, a 161-hp four-cylinder (+ models), or a 130-hp four-cylinder (Base models).
Find Your Soul at Auffenberg Kia
The 2019 Kia Soul is ready and waiting for you at Auffenberg Kia. Now that you know how efficient it is, let us show you how fun it is — and how much space is in that cargo area. To learn more, check out our Kia Soul vs. Honda Fit comparison, or read about the Kia Soul safety rating and features. Contact us today for a test drive or to learn more.