Which Kia Models Have All-Wheel Drive?

Mascoutah and Smithton drivers want a strong and reliable off-roading vehicle that can handle anything nature throws its way no matter the weather and no matter the place. Whether you're commuting to work or handling weekend adventures, a new Kia AWD model can help you take on any challenge on the road ahead. At Auffenberg Kia, you'll find a reliable selection of Kia AWD vehicles that will inspire confidence on every drive. Check out which of your favorite Kia models are designed for an exhilarating and safe ride.
Kia AWD SUVs and Crossovers
If you have an adventurous spirit, you most likely have your eyes set on a Kia AWD SUV. Known for offering rugged capabilities, powerful output, and off-road prowess, Kia AWD SUVs are perfect for weekend warriors and daily workers. Examine the Kia AWD SUV lineup here:
Kia Sportage: AWD is available on every trim of the Kia Sportage, and Trenton drivers will be glad to see that it is a perennial Top Safety Pick as rated by the Insurance Institute for Highway Safety.
Kia Sorento: AWD is also available on every trim level of the Kia Sorento. This SUV can quickly go from work to play, offering rugged specs and endless amenities.
Kia Seltos: This stylish Kia AWD offers energetic performance and reliable capabilities. You can look forward to taking over the carpool lane with your turbocharged engine in a Seltos.
Kia Telluride: This family-friendly SUV offers stunning looks and plenty of power. The Telluride has joined the ranks of the AWD Kia SUVs available at Auffenberg Kia. With seating for up to eight passengers, it's the go-to option for the large family on the go.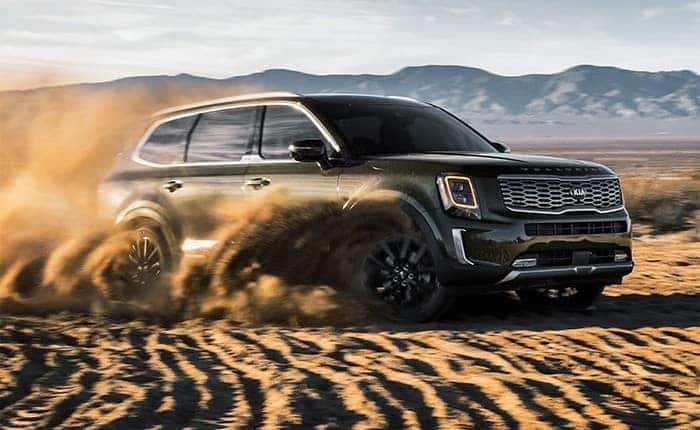 Kia AWD Cars
The Sorento and the Sportage were previously the only two Kia AWD vehicles until 2018 when the Kia Stinger became the first Kia AWD sedan in the lineup. Get to know the Kia AWD sedan options here:
Kia Stinger: The Kia Stinger offers drivers strong performance features including an impressive 368 hp. This stylish and powerful Kia AWD model is perfect for adding a thrill to your O'Fallon commute.
Kia K5: One of the most exciting Kia AWD vehicles is the Kia K5. This performance-minded sedan serves up a stylish body and up to 290 hp.
What are the Benefits of Kia All-Wheel Drive?
There's much more to AWD than simply being able to drive off-road. While that is certainly a unique selling point for many customers, they'll also be surprised to discover the incredible safety advantages this feature delivers:
Improved Traction: The main benefit of AWD vehicles is that they can significantly reduce sliding or gliding on roads where it has recently rained or snowed.
Off-Road Capability: Drivers should be aware that although these Kia models come with AWD, not every car operates effectively in that environment as the durability of the brakes along with the acceleration and suspension of the vehicle may be greatly impacted.
Resale Value: Since AWD Kias may be more costly at the point of purchase, drivers will find that it will be much easier for them to sell when it's time to search for their next off-roading vehicle.
Browse Kia AWD Models in O'Fallon
Understanding the capabilities of your AWD Kia model will surely make you a much better driver and help you make the most of your driving experience. Learn more by seeing how AWD compares to 4WD or what the difference is between a sunroof and a moonroof. And, be sure to check out our inventory of new and pre-owned Kia models. When you're ready to get behind the wheel of your favorite, contact us to schedule a test drive or talk with a member of our experienced finance team.