How Long Can You Drive on a Spare Tire? How Many Miles?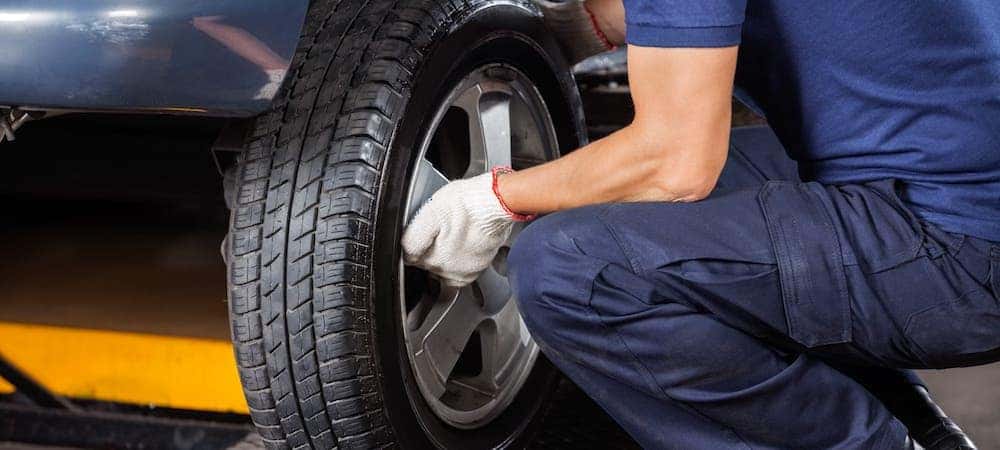 If you're wondering, "How long can I drive on a spare?", Auffenberg Kia is here to help. You'll want to replace your spare tire as soon as possible, but the actual mileage amount depends on what kind of spare you have. A full-size spare gives you more time and mileage, but most smaller space-saver tires need to be replaced within 70 miles at most. Find out more spare tire safety info today.
Space-Saver Spare Tire
Let's say you're out on the road near Mascoutah and you get a flat — or you had a blowout from ignoring that TPMS light. If you find that your spare is smaller than your normal tires, you have a space-saver spare, or "donut" spare. They're included on many new vehicles and come with certain restrictions:
Cannot be driven over 50 miles per hour
Less traction than with a full-size spare
Your space-saver spare will list any additional usage restrictions on the tire itself. You'll want to get to the nearest service center quickly to repair your old tire or purchase a new one.
Full-Size Spare
While a full-size spare is less common, it's often included with new trucks and SUVs. It can be used longer than a space-saver spare, but you'll want to get the tire replaced as soon as possible. It's unlikely that it's the same brand as your other tires, and that can cause poor traction and handling. And since it's brand new, it won't have the same amount of wear as the other tires. We recommend visiting Auffenberg Kia to find a tire that offers a better fit as soon as you can.
How Far Can You Drive on a Spare Tire?
How long can you drive on a spare tire? That's just part of the question — you need to also ask how far. If you've got a full-size spare, there's not much to worry about. If it's a standard tire it will last as long as your regular tires, but if not you should replace the tire ASAP. When drivers ask how far can you drive on a spare tire, they typically mean the "donut" style. It will vary from tire to tire, but yours should have its mileage limits printed on it.
Here's what you need to keep in mind:
You shouldn't drive on a spare tire for more than 70 miles
Ideally you will drive on a spare tire for only as many miles as it takes to bring you to a tire center
What is a Run-Flat Tire?
Run-flat tires can maintain pressure even after a puncture. They offer the following advantages and disadvantages:
Remains inflated for about 50 miles following a puncture
Tougher than a space-saver tire or full-size spare
Often costs more than a standard tire
If you have run-flat tires and your tire pressure monitor shows that it's running low, stop the vehicle and inspect your tires. A visible puncture on a run-flat tire means you'll want to head to your local Smithton-area service center to repair or replace it.
More Tire Care Advice
For more helpful information on tires, contact Auffenberg Kia, located a short drive from Trenton. We offer a selection of new tires designed to fit your vehicle along with a range of Kia performance parts. And, if you're looking for more vehicle maintenance tips you can learn how often to change your oil to keep your Kia running smoothly. 
More Service Tips
Contact Service Schedule Service If you're wondering, "How long can I drive on a spare?", Auffenberg Kia is here to help. You'll want to replace your spare tire as soon as possible, but the actual mileage amount depends on what kind of spare you have. A full-size spare gives you more time and mileage, but most…

Contact Service Schedule Service Maintenance is vital to keep your vehicle running properly for its lifetime, and in addition to your engine, your tires contribute to your car's all-over performance. Taking care of your tires is key, but it can be hard to understand what's needed to keep your tires working properly. If you want…

Contact Service Schedule Service Whether you just drive your car to work and back or regularly road trip out of the Shiloh area, the best way to ensure a safe and uneventful drive is to keep up with your auto service. But do you know your car maintenance schedule? Auffenberg Kia services all makes and models,…